Interested?
Leave your details here.
ENROL IN KUMON HERE
OUR SUCCESS STORY – NUR AMALINA NORAZMAN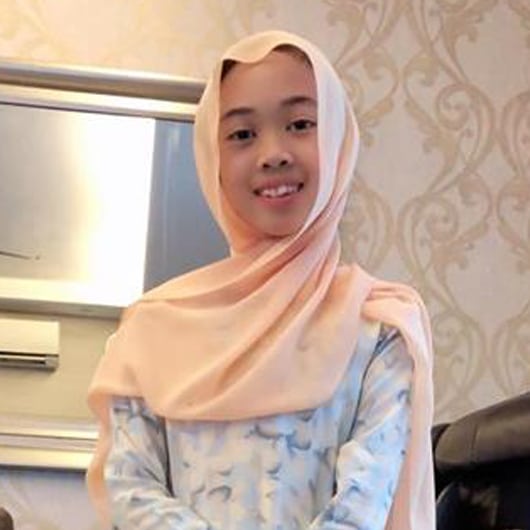 Meet one of our outstanding Kumon students – 12-year-old Nuramalina Norazman – the eldest child in her family who has been attending Kumon since she was five years old. When she first enrolled in both the Math and English classes at Kumon, she was admittedly nervous but also excited. Amalina enjoys learning English as she loves reading books and she is excited to improve her English as it is an international language that allows her to communicate with people from all over the world.
According to Amalina, the biggest challenge that she faced in her Kumon journey was the completion of her daily Kumon worksheets, which she had to complete even when she went on holidays. She eventually adapted to it and realised that completing her daily worksheets helped her complete her schoolwork with ease.
Despite the ups and downs of her Kumon journey, she has persevered and never gave up due to the support of her parents. Whenever she is stressed, she takes a break and only resumes once she has had sufficient rest. "I'm proud to be an advanced student. I'm able to assist my friends at school, understand Maths easily and complete my schoolwork quickly. I'm also more disciplined and responsible now, all thanks to the Kumon programme which has also helped me develop my personality," said Amalina.
Mr. Norazman, Amalina's father, learnt about Kumon from his wife who heard about it from a friend. He decided to enrol Amalina in the Kumon programme because he believed it will help hone her skills and knowledge in addition to what she learns in school. He also believes that Kumon can provide her with a solid Math and English foundation. "Kumon has helped Amalina become more disciplined. She has developed the habit of completing her Kumon worksheets before breakfast every day. Even when we go on holidays, she never misses out on completing her Kumon worksheets. She brings it everywhere we go!" he quipped.
At home, Mr. Norazman allows Amalina to use gadgets only after she has completed her Kumon worksheets. Amalina doesn't attend any other academic extra classes apart from Kumon.
"As parents, we need to motivate and encourage our children to try a few times whenever they face challenges in Kumon worksheets. It's about setting and managing our expectations as parents. We want them to be excellent, but we can't put too much pressure on them. Let them enjoy their learning. At this young age, what's important is for them to enjoy what they are doing. Once they are enjoying themselves, they will take their own initiative to learn. We need to tell them that once they have done their best, they should not be concerned about the outcome. What is more important to me is the process and her effort in giving her best in whatever she does," added Mr. Norazman.
At Kumon, we believe that once children develop self-learning skills, they will be able to face any challenges that may come their way. So…enrol your child in the Kumon programme right away!