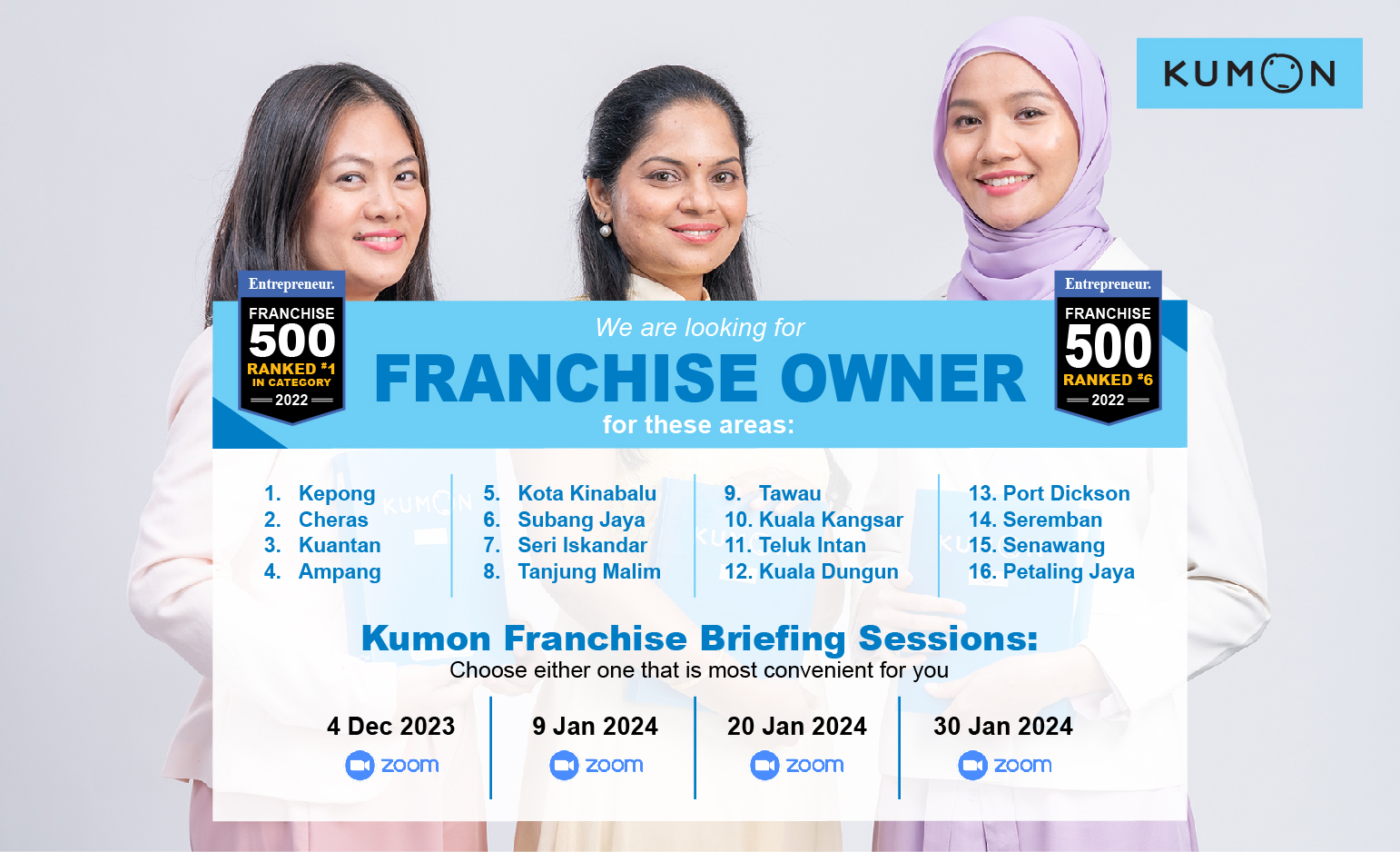 KUMON is the largest and most established after-school enrichment programme in the world, with over 4 million students enrolled across 50 countries and regions. We constantly seek like-minded individuals who are committed to shape the future generations of Malaysia.
More reasons to join Kumon Franchise
1
Established Worldwide
As one of the most well-established franchises in the world, with more than 24,700 centres globally, Kumon serves more than 4 million children across 50 countries and regions.
2
Low
Franchise Fee
You don't have to pay a premium to partner with us.* Kumon has the lowest franchise fee(s) in the industry.
* Based upon review of information from Entrepreneur.com and reported figures of other education franchises.
3
Ongoing
Support
Our training and support begins from day one. You'll never be alone on your journey. Our trainers and fellow franchisees are ever ready to give you a hand.
There will be various platforms organised by Kumon Office for instructors to continue to learn from one another annually:

Annual Direction Seminar
National Instructor Conference
Instructors seminar
Study Group
4
Proven Franchise Business Model
Tried and tested since it was created 60 years ago and proven with over 4 million students, you can count on our simple but effective business model to ensure you have better odds to succeed in the education business.
Is a KUMON Franchise
Right for You?
Yes! As long as you fulfil the following requirements:
1
Malaysian citizen and a Degree holder in any discipline or professional qualification with a credit in Mathematics & English in SPM
2
Excellent interpersonal and communication skills
3
Able to commit full time. Kumon Franchisees are required to be the instructors for their respective centres.
Our Recruitment Process
Our recruitment process is stringent as we believe that it is our responsibility to ensure that each child is able to achieve their fullest potential and excel in their academics. As such, franchisees / instructors carry great responsibility to ensure this. All applicants are required to undergo the recruitment process as reflected below. Applicants who have passed the process below will be selected as Kumon's next franchise/instructor.
1
Submit Kumon Franchise Application Form
2
Attend Kumon's Franchise Briefing & First interview
3
Mathematics & English Test
4
Attend Kumon's Franchise Orientation
5
Franchise Proposal Presentation & Final Interview
6
Attend 4-week New Instructor Training Course by Kumon HQ
7
Franchise Agreement Signing and Centre Opening
Want to know more about our franchise programme? Fill up the form below
Frequently Asked Questions